UWC Thailand
460 Students
Aged 2-18 years
3 March 2017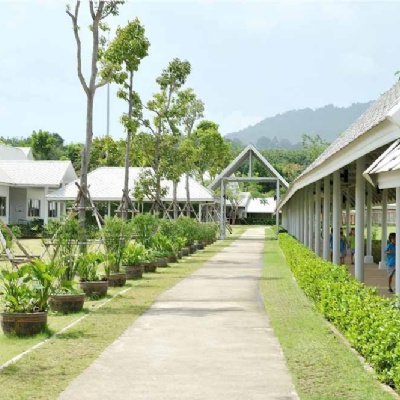 Encircled by rubber tree plantations and virgin rainforest, UWC Thailand sits nestled in the foothills of Phuket's green-capped mountains, away from the island's busy city centres. Its unique location is both symbolic and intentional; a physical reminder that in addition to academic rigour, the UWCT community values wellness and environmental stewardship. It is a day school with boarding facilities and offers a holistic educational program with a special focus on mindfulness.
Three Unique Features
UWC Thailand aims to realise the UWC mission by delivering a mindful, diverse education underpinned by its belief in the connection between a "Good Heart, Balanced Mind, and Healthy Body".
Good Heart - UWC Thailand integrates Social Emotional Learning and Mindfulness into its curriculum, providing each of its community members support in developing key life skills, including self-awareness and management, social awareness and effectiveness, and approaching work in an ethical and effective manner.
Balanced Mind - UWC Thailand has a deep commitment to experiential learning, and to making learning engaging and meaningful for all. Through a scaffold of activities and experiences that allow for skill development and eventual mastery; our students learn to challenge themselves from their first days in nursery all the way to DP exams. Through rigorous academics, outdoor education, after school activities, extended essay research, and planning a week-long service project, each year our students realise what we know already: they are capable of much more than they think.
Healthy Body - Adjacent adjacent to Thanyapura, Asia's largest sports and wellness resort, means our students (and their parents) enjoy access to incredible sports and wellness facilities. Thanyapura features four swimming pools, six tennis courts, a running track with a full-size rugby field, gyms, fitness studios and a mindfulness centre. As an athlete-friendly school and a member of the World Academy of Sport, our student athletes are able to balance elite-level swim and triathlon training at Thanyapura with a world-class education, supported by teachers and coaches alike.
In the Classroom
Within UWC Thailand's environment of authentic and targeted differentiation, equal emphasis is placed upon mental and emotional balance, and academic rigour. Students learn how to learn, analyse, think creatively and reach thoughtful conclusions, making it a demanding program that encourages students to the highest levels of academic achievement.
The Nursery program is for students aged 2 - 3 years old. The Primary Years Program is for students aged 3-12, and the Middle Years Program is for students aged 11-16.
To 16-19 year-olds, UWC Thailand offers the International Baccalaureate Diploma Program (IBDP) curriculum.
Outside the Classroom
UWC Thailand offers a comprehensive activities program for students of all ages. The activities enable students to explore projects and passions in Service, Creativity, Sports, Social and Culture, and are run during lunchtimes, after school and on weekends. In addition, students embark upon expeditions with their classmates, which focus on adventurous training and push the boundaries of their experiences. The expeditions range from Grade 1 students spending a night in the library, which for some is their first night away from home, to Grade 5 students spending 5 days camping and kayaking around the coast of Phuket. Some grade levels take trips to learn how to sail with their classmates, others work with a regional turtle sanctuary to help protect endangered species. Each grade level focuses on a different expedition each year, with each trip being appropriate for the age it caters for. IBDP students organise their own Project Week, which has a central focus on Service and Community.
Campus and Facilities
UWC Thailand's campus is spacious and extensive hosting facilities for its Early Childhood, Lower Primary, Upper Primary and Secondary students. The boarding house is home to approximately 100 students from grades 7-12.The school is situated next door to Thanyapura, Asia's largest sports and wellness resort, and all community members have access to its excellent sports facilities which include an Olympic sized swimming pool, 500m running track, rugby pitch, tennis courts, volleyball courts, mindfulness centre and cardio centre.
Geographic Setting
UWC Thailand is situated in the northern part of the island of Phuket. It is a 20-minute drive to the Sarasin Bridge, which connects Phuket to mainland Thailand. Phuket's landscape is a mixture of protected national park, beaches and coastal areas, and rubber plantations with local communities.
Admissions
Applicants for UWC Thailand's nursery, primary and middle schools apply to the school directly. The admissions process is based on UWC's mission and values. Students who wish to attend UWC Thailand in grade 11 and 12 can either apply through their UWC national committee or through the UWC Global Selection Programme. It is UWC Thailand's policy that no more than 20% of any particular nationality is represented within the community. For more information about UWC Thailand, visit the website.
Contact Details
---