Ioana Ștefan
23 July 2018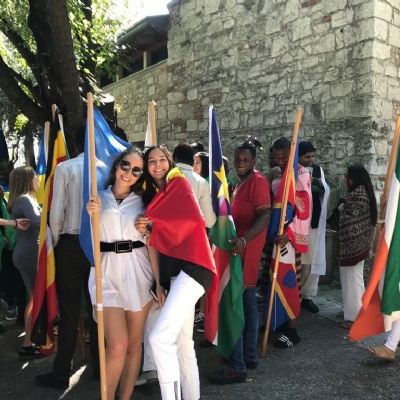 Here is what Ioana wrote in August 2018, before leaving to UWC Adriatic:
"For me, this whole story started in a completely unexpected way. I knew for a really long time that my desire is to study abroad, I had a really established plan in my mind: I would finish my studies at the high school I started in Romania and then continue a faculty away from home, where the opportunities were better and bigger and the people that I was going to meet were from all over the world. Like that, I could discover the world from different views but also gain educational and intellectual information. But this is exactly what is going to happened, just 2 years earlier. Everything started when I received information about the UWC scholarship program and I began to inform and document myself. I received at school a flyer with information about the application process and in the same day I started searching online as many things as I could find out about the opportunity that I had in front of me, about what life at a UWC College really means. That was the moment when I started thinking more serious about my future. And... Well… I remember the place, the time and every single detail about the moment when I received the acceptance email at UWC Adriatic College, Italy. It was, sincerely, a shock. I knew that since then, everything I was going to do was about to change, and my opportunities had grown incredibly, changing from that high school that I was in, into an amazing UWC College. I can't wait to get involved in as many activities as I can, to learn the subjects I want and the ones that attract me the most and to start creating my future step by step. What I like most about UWC is that it gives me the opportunity to develop and discover myself not only academically but also socially. And the best part? I will be surrounded by people from 90 different countries. It everything went from a dream that was going to happen in two years, to a dream that takes place in one month."
And here are her thoughts in July 2019, after her first year:
"One year ago I had not begun my life at UWC. I was not yet an official first year at UWC Adriatic, Italy. I was still at home, partying with my friends, and I had no idea that in two months my life was going to change completely. In August 2018 I left home, I left the Romanian system behind. I left, with tears in my eyes and with heartbreaking feelings. The comfort, life, friends and most importantly, family, were left in Romania. I left them somewhere safe, a place that I can still call "home". Then I closed my eyes and in a second I was in a new place. Surrounded by people from 80 different countries. By three roommates from Rwanda, Pakistan and Italy. By teachers who became my friends. And by friendships that have taken a place in my heart. I have listened to heartbreaking stories about others' lives that made me realize that the people back home have a beautiful life. We don't have any problems. I started studying the IB syllabus, with interactive papers and projects. I practiced sailing and kayaking in the Adriatic Sea and volunteered every Tuesday, making arts and crafts with children. I studied for tests and exams with an incomparable or almost inexistent stress and fear, a lot more different than the destructive system in Romania. I lived throughout this academic year, which was a year full of changes. Home is now where I go twice a year, but also where I spent one year and where I get to spend the next one soon, starting in August. UWC is indeed a big family all over the world. There is a saying about UWC that mentions it as having the aim to unite people. After one year of experience I can honestly say that it is true. It is hard to put into words all the emotions that I felt during my last year, but what I wrote here was a small part of my experience."