Suzana Carp
5 November 2018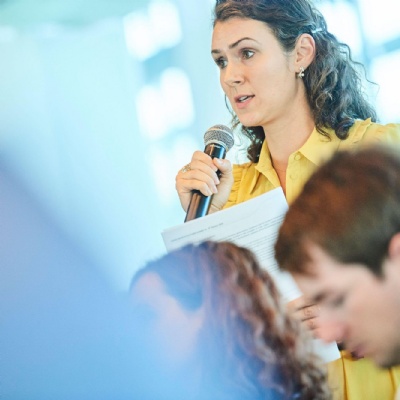 I chose to write these few words on the move, as it only seems appropriate to write on the move about my experience at UWC and all my subsequent choices. As I spent my past week between Brussels, Rome, Helsinki and Stockholm, I realise, with sadness, how much greenhouse gases such a lifestyle entails and I can only hope that in all this rush, through the actions I take in my professional life, a life almost entirely" dedicated to fighting global warming, I can neutralize these trips' effect, my own trips and others' such as UWC students.
I say "almost entirely" because at UWC I became a global citizen, with a lot of interests, many passions, friends from all over the world and connections to subjects and problems that although do not affect me personally, affect humanity and me, indirectly. I learned that I should not limit myself to just one academic area. I learned that any type of volunteering is a way of life that helps you to live fully and more connected to people around you. Additionally, I became more aware of the cultural structures that many times divide us based on imaginary differences and of climate problems that I had not known before.
Today, 14 years after my graduation, I work in the field of research and public policies regarding global warming. I live in Brussels, where, together with my colleagues, we have been developing, for several years now, one of the most precise projections of gas emissions in the European Union. Subsequently, our expertise has allowed us to talk to public stakeholders and influence, through our analysis, the public policies that will affect us all in the future. Perhaps "future" is not the right term - in reality, global warming is already happening and will affect the generations already born today. With each year that passes we have new temperature records, the 2018 summer saw the largest number of simultaneous hurricanes in the world and this means that the agriculture, biodiversity and the water supplies suffer. Furthermore, most of the world population lives along the coastal lines and this means that they are directly exposed to the effects of planetary waters raising.
How did I end up working in this field? Clearly, the decisive factor was my UWC experience where I had the chance to study Environmental Systems for my International Baccalaureate, a science that allowed me to combine the biology, chemistry and physics knowledge acquired in Romania. It is there that I first learned about global warming and, by understanding the exponential way it happens, I saw that we have a real problem, a problem we must try to solve. Plus, I was living in New Mexico and I knew too well what drought meant. During my two years at UWC-USA we had several water shortages which affected us (and by that I mean not only the closing of the campus swimming pool).
My two years at UWC confronted me with the problem of global poverty. I had colleagues from countries where the majority of the population lives in poverty and colleagues that told me that on their way to school, they had to hop from one island to another (my dearest colleague from Maldive). While I was studying together with them, I understood that for many of my new friends and new UWC family, global warming is an existential threat leading possibly to the destruction of their world, the extermination of entire cultures, languages and nations. And this is what made me want to do something about this. Today, I have the chance to be present at international inter-governmental negotiations and European negotiations and encourage the EU to lead the entire world in this effort to avoid a global catastrophe.
My international career does not mean I lost my connection to Romania. I came here every single summer holiday for 8 years, during my studies. In 2011 I returned to Romania where I had the chance to work in an NGO focused on migration, to develop and implement my own educational project called ACT 4 Democracy and finally become a public officer with the Romanian Parliament. And my two years of being "the little Romanian ambassador at UWC" served me well in all these circumstances. I can feel nothing less than gratitude for this extraordinary chance I have been given and continue to live, in my own way, the UWC mission of cultural understanding and promoting peace. This mission means different things for UWC students and this is exactly where its power resides: the idea that each of us will somehow manage to change the world around us.